Seeking Your EPA 609 Certification? Mainstream Engineering Can Help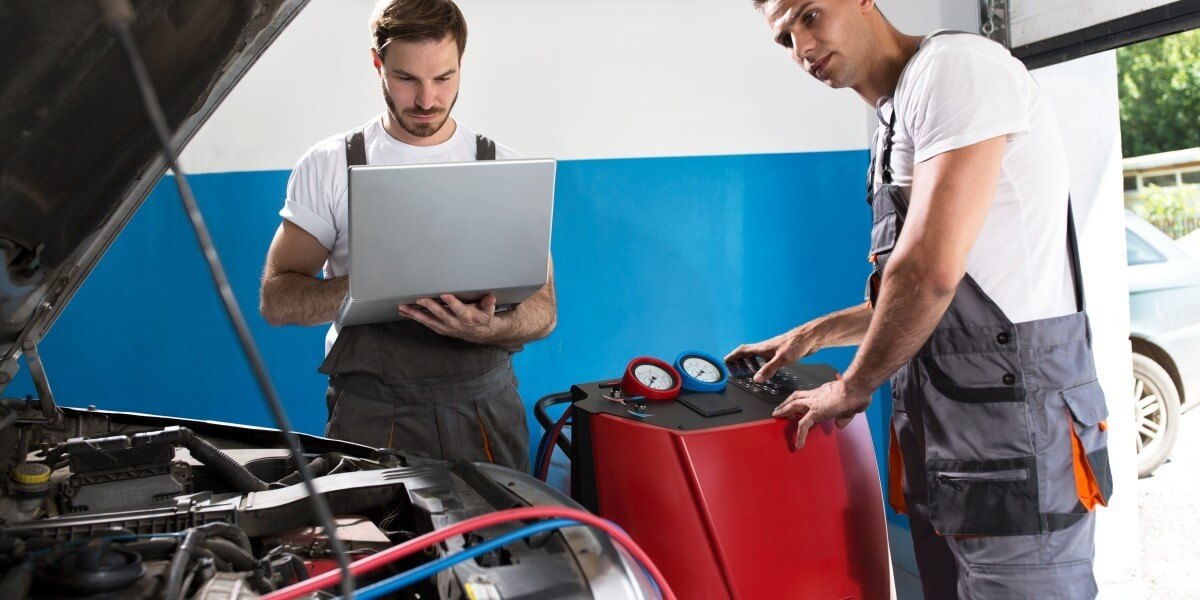 Since January 1993, any professional planning on servicing motor vehicle air conditioners must certify to the Environmental Protection Agency (EPA) that they are properly trained and approved to purchase and work with refrigerants. EPA Section 609 allows the purchase and servicing of any refrigerant in any size of container from an auto supply house for use in cooling vehicles.
If you're an HVAC technician who needs to take the EPA test to service vehicle systems, Mainstream Engineering Corporation, at EPATest.com, is here to provide complete support from start to finish. Our EPA-approved certifying agency offers the resources and support professionals need to improve their services and the safety of their work. We're ready to help industry professionals enhance their knowledge and training while providing valuable certifications to help build their careers.
Keep reading to learn more about EPA 609, or if you're returning to check your test scores, click here.
All About EPA 609
Purpose: To teach technicians how to properly manage and recover refrigerants in motor vehicle air conditioner (MVAC) applications. These responsible practices aim to reduce our negative impact on the environment and to help protect our stratospheric ozone layer.
EPA 609 covers the repairing, leak testing, and topping off of air conditioning systems in motor vehicles. Passing this exam is required to service vehicle AC systems and purchase 20 pounds or less of regulated refrigerants.
What Does EPA 609 Include?
Although the course is fairly straightforward and ends with an open-book exam, the reading material is not light or easy to skim through. EPA 609 MVAC focuses on complete servicing of motor vehicle AC systems, including the history behind these regulations as well as proper instruction for handling and refilling air conditioners.
EPA 609 covers a lot of relevant topics, including:
Molecular structure and terminology

CFCs, HFCs, and HCFCs

Handling of disposable and refillable cylinders

Refrigerant safety

Ozone-depletion concerns and potential health effects

Current industry regulations

Best-service practices (leak tests, leak repairs, refrigerant blends)
There is a lot of content to cover. Ready to start studying? Check out our free study manual to get started!

Passing Your EPA 609 Exam
After you have read through and understand your study manual, you can take the test online for $19.95. This open-book exam, has the manual linked to the top of the test for reference. The exam consists of 25 questions, with 21 being the minimum number of correct answers needed to pass. Be sure to answer all questions because blank answers are considered wrong. You can refer to your manual as needed to pass, If you need to redo your exam, the cost is $4.95. When the passing scores are accepted, Mainstream Engineering posts your information online for easy access (and for employer verification). You can also browse our online store to find patches, cards, and certificates to highlight your EPA certifications. We're here to help you achieve the right certifications to enhance your capabilities, and we can discuss our certifications with you to meet your professional needs.
Mainstream Engineering is a Certifying Organization
Our EPA certification services are approved by the Environmental Protection Agency, allowing Mainstream Engineering Corporation to support and test HVAC technicians for EPA 609 MVAC, R-410A, EPA 608, and more. We offer complete support to help industry professionals grow and promote their expertise, including study guides, practice tests, and certifying exams. 
Get Started Today
Have questions? You can check out our FAQ page for more information on our EPA certification services, or you can contact us online for complete assistance. Regardless of your professional needs, Mainstream Engineering Corporation at EPATest.com is here and ready to help!