Indoor Air Quality Certification
Indoor air quality has become a top priority for technicians and homeowners alike. With Mainstream's IAQ certification, technicians can add indoor air quality services to every service call. This training and test covers the best ways for a technician to inspect, adjust, and maintain a building's ducting, humidifiers, blowers, and more. These steps help to create cleaner, fresher air within the structure
---

Mainstream offers free study materials for Indoor Air Quality Services Certification online: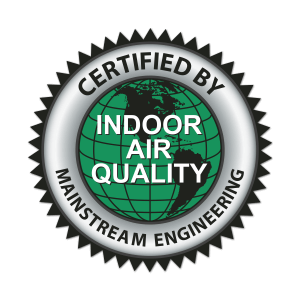 In the last several years, a growing body of scientific evidence has indicated the air within buildings can be more seriously polluted than the outdoor air, and HVAC systems are the primary mechanism to condition and clean the air in buildings. Likewise, problems in the HVAC system are also the primary factor in resulting problems associated with indoor air quality. In a properly constructed building, the HVAC system can most significantly affect the quality and cleanliness of the indoor air. Therefore, the HVAC technician is the ideal individual to implement indoor air quality improvements in a structure. Clearly, the HVAC technician, after being trained in IAQ matters, is the individual best suited to service, adjust, inspect, and clean the HVAC network of ducting, heat exchangers, condensate pans, humidifiers, and blowers. With this in mind, Mainstream Engineering developed this training program.
Add Indoor Air Quality Services to EVERY Service Call
IAQ Certification is not required to purchase or use Mainstream's line of IAQ QwikProducts®; however, if you want to become certified, the certification exam is $24.95 for your first attempt and $5.95 for each additional attempt if necessary.
Mainstream is approved by the EPA as a certifying agency for Section 608 Type I, II, III, and Universal exams and Section 609 Motor Vehicle A/C certification.