HC (A3) & HFO(A2L) – Low GWP Refrigerant Training
As the HVAC/R industry evolves, more energy-efficient and environmentally friendly refrigerants are being introduced.  These Low-GWP refrigerants are considered flammable (A3) or slightly flammable (A2L).  Proper handling of these refrigerants is important, which is why Mainstream Engineering offers a complete A3/A2L low-GWP training for EPA 608-certified technicians.
---

Mainstream offers free study materials for HC/HFO - Low - GWP certification online: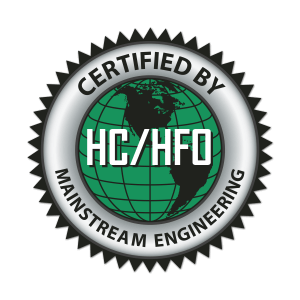 Mainstream's HC/HFO training covers all aspects of techniques and regulations for the safe handling of flammable hydrocarbon and hydrofluoroolefin refrigerants. Before obtaining Mainstream's HC/HFO certification, the technician must have an EPA 608 certification from an EPA-approved certifying agency, such as Mainstream. Mainstream is approved by the EPA as a certifying agency for Section 608 Type I, II, III, and Universal exams and Section 609 Motor Vehicle AC certification.
Mainstream's HC/HFO Low-GWP-A2L Manual is free to read and available here. When you are ready to become certified, click the Get Started link above to start an open-book test. The $24.95 exam fee includes the exam itself and a wallet-sized certification card. If you do not pass the first time, the retest is only $5.95.