EPA-Approved Section 609 Certification is needed to service motor vehicle air conditioners and to purchase refrigerant.
---
EPA Section 609 MVAC FAQ
---
General Questions
Certification Questions
Technical Questions
---
General Questions
1. Is Mainstream Engineering approved by the EPA to offer Clean Air Act Section 609 certification?
Yes, you can find Mainstream Engineering as an approved organization on the EPA's website for Section 609 Technician Training and Certification Programs.
2. What is EPA Section 609 Certification?
Since January 1, 1993, any person repairing or servicing motor vehicle air conditioners shall certify to the EPA that such person has acquired, and is properly using, approved equipment, and each individual authorized to use the equipment is properly trained and certified under Section 609 of the Clean Air Act.
3. What size container can I purchase refrigerants in and what type of refrigerants?
Only Section 609 certified motor vehicle A/C technicians can purchase refrigerants in any size container from an auto supply house for use in cooling the passenger compartment of vehicles.
---
Certification Questions
1. When is Section 609 certification required?
Section 609 certification is required for working on MVAC systems while Section 608 certification is required for working on non-motor-vehicle air conditioning systems. Section 608 certification is required for working on hermetically sealed refrigeration systems used on motor vehicles for refrigerated cargo or the air conditioning systems on passenger buses that use HCFC-22 refrigerant.
---
Technical Questions
1. How does a basic (vapor-compression) refrigerator, air conditioner, or heat pump work?
The most basic vapor-compression refrigeration system consists of four major components: compressor, evaporator, condenser, and expansion device. As every technician knows, actual practical hardware contains many other critical components for reliable, trouble-free operation, such as a control system, high-pressure and low-pressure safety controls, liquid receiver, accumulator, oil separator, crankcase pressure regulator, etc. However, the four basic components are all that is needed to illustrate how a system operates.
In the basic cycle, slightly subcooled liquid refrigerant leaves the condenser at high pressure, and the pressure is dropped via the throttling device (capillary tube, TXV, etc.) before it enters the evaporator. It enters the evaporator as two-phase mixture (mostly liquid with some vapor) and evaporates or boils at low temperature, adsorbing heat.
Refrigerant adsorbs energy (provides cooling) as it is evaporated; as it boils and turns from liquid to vapor it absorbs energy, thereby providing the cooling. For pure refrigerants, if the refrigerant evaporates at a constant pressure, the evaporation occurs at a constant temperature while both liquid and vapor are present. Likewise, refrigerant rejects energy (gives off heat) as it condenses from vapor to liquid.
For pure refrigerants and azeotropic mixtures (500 series refrigerants), if the condensation occurs at a constant pressure, the condensation occurs at a constant temperature until all the vapor has condensed to a liquid. Therefore, for evaporation or condensation, the temperature and pressure are related by the pressure/temperature saturation curve.
Slightly superheated refrigerant vapor exits the evaporator and enters the compressor where the pressure and temperature are increased as the compressor compresses the refrigerant vapor. The vapor leaving the compressor is superheated vapor, and the compressor discharge is the hottest point in the cycle. This superheated refrigerant is cooled and condensed to a liquid in the condenser where heat is rejected (removed from the refrigerant and dumped into the air on an air cooled condenser).
The refrigerant is condensed to liquid and subcooled slightly in the condenser. Refrigerant actually leaves the condenser slightly subcooled to assure condensation has been complete. Any non-condensable vapors in the system will be unable to condense in the condenser and will appear as gas bubbles in the condensed liquid stream. These non-condensables could collect in the condenser and displace refrigerant from the condenser, which reduces the effective surface area of the condenser.
Any water in the system will most likely freeze in the expansion valve—this is the point where refrigerant is cooled by the evaporation occurring as a result of the sudden pressure drop, and the expansion device is also the smallest passageway in the overall system. For this reason, filter/dryers are typically located just upstream of the expansion device.
2. Please Explain the Refrigerant Numbering System
Because the chemical names of typical refrigerants are long and complex, a method of referring to refrigerants by number was developed by DuPont. The numbering system was released for general use in 1956 and has become an industry standard. A complete discussion of the number designation and safety classification of the refrigerants is presented in ASHRAE Standard 34-1989.
Briefly, the method of designating a refrigerant by number is as follows. (Note that the numbering system begins on the right.)
First digit on the right = Number of fluorine atoms
Second digit from the right = Number of hydrogen atoms plus one
Third digit from the right = Number of carbon atoms minus one (not used when equal to zero)
Fourth digit from the right = Number of unsaturated carbon–carbon bonds in the compound (not used when equal to zero)
When bromine is present in place of all or part of the chlorine, the same rules apply except the capital letter B after the designation for the parent compound shows the presence of the bromine (Br). The number following the letter B shows the number of bromine atoms present.
The lower-case letter that follows the refrigeration designation refers to the form of the molecule when different forms (isomers) are possible, with the most symmetrical form indicated by the number alone. As the form becomes more and more unsymmetrical, the letters a, b, and c (lower case) are appended (for example, HFC-134a). If all the carbon bonds are not occupied by fluorine or hydrogen atoms, the remainder are attached to chlorine. Because the structure of a refrigerant, whether CFC, HCFC, or HFC, has become so important, the refrigerants are often referred to in this way. For example, R-12 is CFC-12; R-22 is HCFC-22; R-134a is HFC-134a. This is simply a way of pointing out their chemical structure and therefore their relative ozone-depletion potential.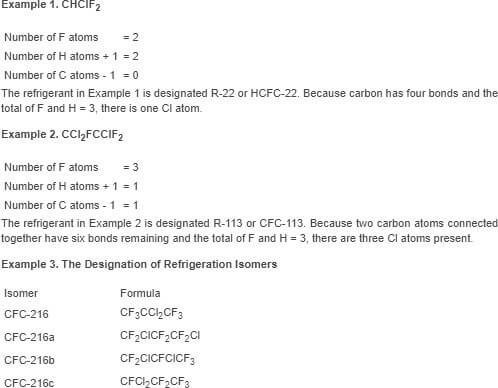 3. Why are some refrigeration containers green and others are blue or white?
Refrigerant manufacturers and packagers voluntarily color code cylinders for their chlorofluorocarbon refrigerant products. The color coding for common chlorofluorocarbon refrigerants is listed below. Those green containers contained HCFC-22 (R-22), the light blue containers contained HFC-134a, and the white containers contained CFC-12 (R-12).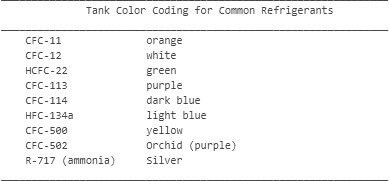 4. Is the use of R-12 (also called CFC-12) banned?
No. The production or importation of CFC-12 in the USA is banned because according to the EPA it depletes the ozone layer. However, use of CFC-12 is not banned. Even though production of CFC-12 ended on December 31, 1995, use of CFC-12 is still permitted, and both recycled R-12 and R-12 manufactured before the production ban is still readily available. You can continue to use the CFC-12 that is in your vehicle now, and your service technician can continue to put it in your vehicle, as long as supplies are available. CFC-12 used today is constantly being recovered and recycled, and CFC-12 produced in 1994 and 1995 is being placed into inventory so there is still refrigerant available.
5. Does the EPA require fixing automotive air conditioning systems that leak?
No. The EPA does not require leaking automotive A/C systems be fixed. However, states or municipalities can pass such laws requiring leaks to be fixed. For example, the state of Wisconsin; the cities of Austin, Texas, and Albuquerque, New Mexico, and parts of southern California have and could still require A/C system leaks be fixed.
The EPA does require the repair of certain large commercial and industrial refrigeration systems that have major leaks.
6. What new refrigerant will my service technician put in my vehicle? Are there many substitute refrigerants that are OK?
Auto makers are producing new vehicles with R-134a, which does not deplete the ozone layer. EPA evaluates all substitutes for CFC-12 under its Significant New Alternatives Policy (SNAP) program in order to determine if they pose any risk to human health or to the environment. Currently, among the alternatives listed as acceptable subject to use conditions, R-134a is the only one which also has been fully tested and specified by auto makers in their guidelines.
7. Will any alternative refrigerant listed by EPA as acceptable work in my vehicle?
EPA's SNAP program ONLY determines which risks an alternative poses to human health and the environment and not whether the refrigerant will operate properly in your car! The EPA does not determine whether the alternative refrigerant will provide adequate performance or will be compatible with the components of your A/C system.
8. Can I vent HFC-134a or other refrigerant substitutes?
No. Effective November 15, 1995, section 608 of the Clean Air Act prohibits individuals from knowingly venting substitutes for CFC and HCFC refrigerants during the maintenance, service, repair, and disposal of air-conditioning and refrigeration equipment. An EPA fact sheet explains this prohibition in much more detail. Note: although this prohibition is part of Section 608 (stationary refrigeration and air conditioning equipment), it also applies to Section 609 (motor vehicle air conditioning).
9. Is R-134a flammable?
R-134a is not flammable at ambient temperature and atmospheric pressures. However, R-134a service equipment and vehicle a/c systems should not be pressure tested or leak tested with compressed air. Some mixtures of air and R-134a have been shown to be combustible at elevated pressures. These mixtures may be potentially dangerous, causing injury or property damage.
10. Has the EPA declared any alternatives to CFC-12 for use in vehicles to be unacceptable?
Yes. The EPA determined two CFC-12 substitutes, OZ-12 and HC-12a, both manufactured by OZ Technology, Inc. of Post Falls, Idaho, are unacceptable for use in motor vehicle air conditioners because of unanswered flammability concerns. EPA regulations also state that all flammable refrigerant substitutes are unacceptable for use in vehicle A/C conversions. Other refrigerants have also been found unacceptable for environmental reasons. See the current EPA's fact sheet "Choosing and Using Alternative Refrigerants for Motor Vehicle Air Conditioning" for more details.
11. Are there any drop-in replacement refrigerants for R-12?
No. A number of refrigerants other than R-134a have been listed by EPA as acceptable under its Significant New Alternatives Policy (SNAP) program, or are under SNAP review. The SNAP program evaluates substitutes only for their effect on human health and the environment, and not for performance or durability. None of these refrigerants have been endorsed by the original equipment manufacturers for use in vehicles, and few have had extensive testing in a wide range of vehicle models.
Although some manufacturers of alternatives might be marketing their products as "drop-ins," because of the EPA regulations for different service fittings and labeling, there is no such thing as a refrigerant that can literally be dropped in on top of the existing R-12 in the system. Furthermore, from an engineering stand point, none of the claimed refrigerants have demonstrated drop-in performance.
For more information on the SNAP requirements and on which alternatives have been reviewed, accepted, or deemed unacceptable by EPA, call the EPA Ozone Protection Hotline at (800) 296-1996 and request a copy of "Choosing and Using Alternative Refrigerants in Motor Vehicle Air Conditioning."
Some people claim R-134a is only a temporary replacement for R-12 to be used until a drop-in replacement that cools better and does not require a retrofit becomes available. Current research indicates no such replacement refrigerant exists. The worldwide automotive industry conducted extensive research and testing on many potential substitutes for R-12 before selecting R-134a. This author, the technical community at large, and the EPA are not aware of any plans by the auto makers to use any refrigerant in new vehicles other than R-134a.
12. Which refrigerants are used now? What is Freon?
"Freon" is a trade name for CFC and HCFC refrigerants used by DuPont. Other trade names include Allied-Signal's Genetron and ICI's Arcton. Various companies sell the same CFCs, HCFCs, HFCs, and other products under different names. The most common ozone-depleting refrigerants are CFC-12, R-502, and HCFC-22. R-502 is a blend of 48.8% HCFC-22 and 51.2% CFC-115.
13. I recently took the exams for 608 and 609 certification. The study guide specifically states as little as 1% mineral oil will contaminate a POE oil. Yet several well-known automobile parts supply houses sell POE oil that states on the can the POE oil can be added to mineral oil systems without flushing the mineral oil out. Also, A/C shops use the same procedure, some drain the compressor only. Which is correct?
The answer to your question depends on which refrigerant is in your system. R-12 refrigerant can be used with either mineral oil or POE oil. Therefore, if you have R-12 in your system, you can add POE oil to it even if the factory charge was with mineral oil. However, if you are planning on retrofitting to R-134a, it is prudent to flush the mineral oil out of the system to acceptable levels to ensure adequate oil return to the compressor.
Acceptable levels of mineral oil in POE/R-134a retrofits vary and span a wide range of sources. Most of these references indicate the mineral oil concentration in POE must be reduced to no more than a few percent, and multiple compressor oil changes with POE will accomplish this if the system is run for several hours between changes. Residual mineral oil targets generally fall between one and five percent. Older sources recommend mineral oil contaminations of no more than one percent.
14. How do I obtain a copy of SAE document J1661, "Procedures for Retrofitting R-12 in mobile A/C systems to HFC-134a"?
SAE
400 Commonwealth Drive
Warrendale, PA 15096-0001
724-776-4970
724-776-0790 (FAX)
www.sae.org
15. Is it legal to carry refrigerant 134-A and/or-404A or Hot Shot in 25# cannisters without having recovery equipment in that same vehicle?
Yes, however, it is illegal to be at a job site servicing the refrigerant system without a recovery machine at the job site and without a certified technician doing the refrigerant handling.
16. I understand that R-134a does not deplete the ozone layer, but I don't understand the other "high" environmental impacts it has. 
On Page 16 of the Study Guide I found, under HFCs, "These refrigerants have an ozone-depletion potential of zero but probably still contribute to the global warming function."
On Page 17, second paragraph down, "HFCs such as R-134a, do not lead to ozone depletion but do contribute to global warming due to the greenhouse effect..."
On Pages 26 & 27, under Global Warming Potential and Table 2, "Hydrofluorocarbon (HFC) refrigerants such as HFC-134a, contain no chlorine and therefore have zero ozone-depletion potential (ODP), however they can still contribute to the global warming problem caused by greenhouse gas emissions. The potential of a gas contributing to global warming is expressed in a relative scale, known as the Global Warming Potential or GWP. The GWP is reported relative to carbon dioxide; therefore, a refrigerant with a GWP of 1000 has 1000 times greater potential to contribute to global warming than carbon dioxide."
When I read the data in Table 2, I see the GWP of carbon dioxide is low, at 1; the GWP of CFC-12 is high, at 10,900; the GWP of HFC-134a is 1,430. With Table 2 expressing a low of 1 and a high of 10,900, the GWP of HFC-134a would fall into roughly the Low-moderate level, not the middle or high level.
You are correct in your understanding of GWP – The GWP metric was developed to allow comparisons of the global warming impacts of different gases. Specifically, it is a measure of how much energy the emissions of a gas will absorb over a given period of time, relative to the emissions of carbon dioxide. The larger the GWP, the more a given gas warms the Earth compared to carbon dioxide over that time period. The time period usually used for GWPs is 100 years. The GWP metric provides a simple means to compare the warming potential of different gasses, allows analysts to add up emissions estimates of different gases, and allows policymakers to compare emissions reduction options.
What should have been stated in the manual, is that the term "high GWP" depends somewhat on the agency or environmentalist you are talking to, but they all agree anything over 1000 is clearly a high GWP. Many in Europe believe any GWP higher than 150 is too high, while others think 100 is too high. There is currently no GWP limit set at the federal level, but California is proposing a GWP limit of 750 for certain new stationary air conditioning and refrigeration systems. The EPA will probably set maximum GWP limits for refrigerants in the near future.