Green HVAC/R Certification
Those looking for a new way to gain the edge in providing eco-friendly and professional HVAC services can rely on Mainstream's Green Certification program. This certification shows that you are up-to-date on energy audits, energy-efficient equipment, and preventative maintenance measures to ensure optimum HVAC operation. Many home and business owners are concerned about their environmental impact, making our Green HVAC/R program a great choice for responsible and efficient services.
---

Mainstream offers free study materials for Green HVAC/R Certification online: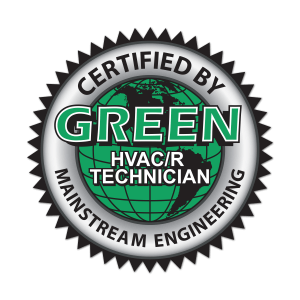 Green Certification is not an EPA-required certification. It is, however, becoming one of the most important concerns for building owners, home owners, and industry professionals in the United States. Becoming Green HVAC/R certified demonstrates to customers, peers, and potential employers that you are aware of and possess a basic understanding of the principles behind energy conservation and how it relates to the heating and cooling industry.
Mainstream's Green HVAC/R Certification Manual is free to read and available here. When you decide to become certified, click the "Get Started" link above to start an open-book test. The $24.95 exam fee includes the exam itself and a wallet-sized certification card. If you do not pass the first time, the cost to retest is only $5.95.