Achieve All of Your EPA Certifications With Mainstream Engineering Corporation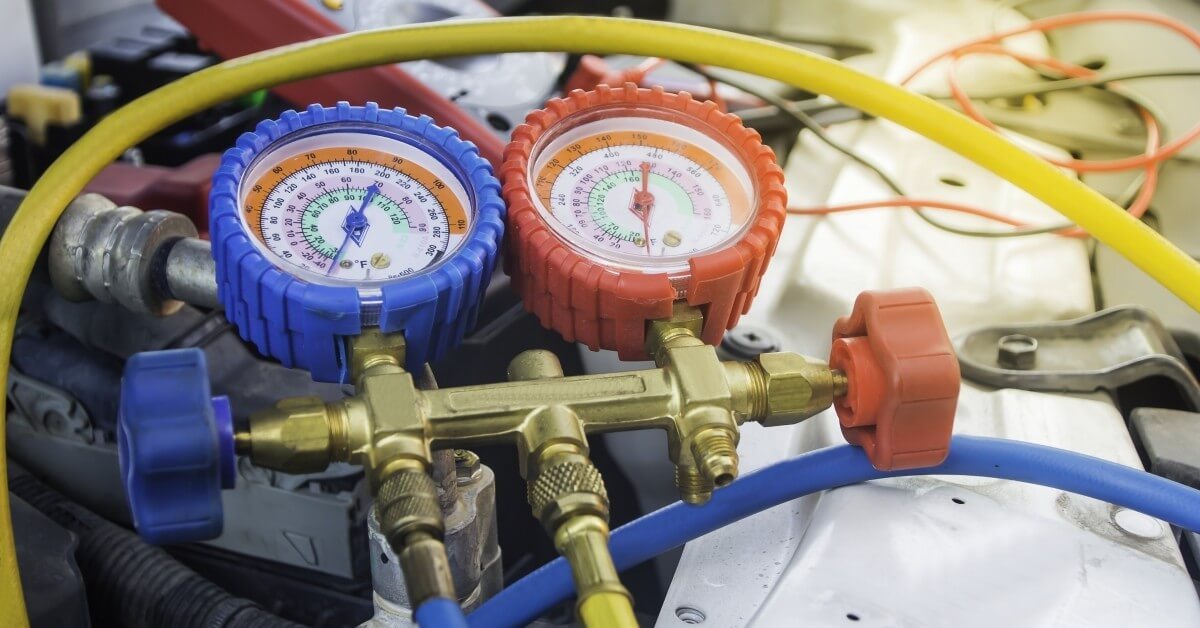 Any technicians interested in providing services in the HVAC/R industry are required to undergo training and certification from an EPA-approved source to ensure that each individual does the job safely (see the Clean Air Act). The Environmental Protection Agency offers several certification options to ensure that technicians receive specialized training for their specific services. You can gain your certifications from approved agencies such as Mainstream Engineering Corporation and EPATest.com.
Keep reading to learn about our available certifications, and feel free to get in touch with us if you have any questions!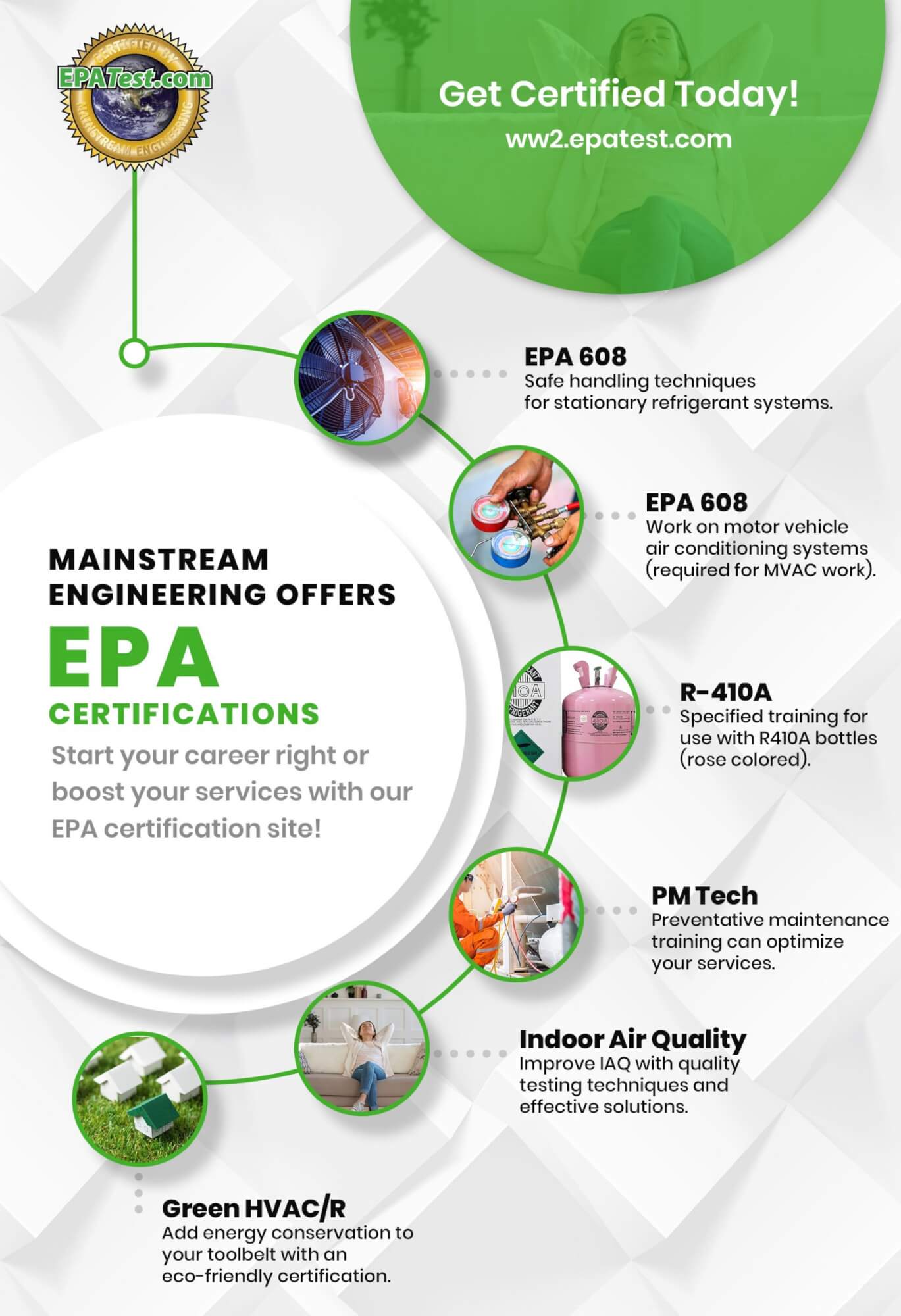 EPA 608
Any technicians interested in working with stationary refrigeration and air conditioning systems will need to successfully complete their EPA 608 certification, which includes three different sections, a core section, and a universal certification. You can work on small appliances (five pounds of refrigerant or less), medium- to high-pressure appliances, and low-pressure systems. Mainstream Engineering and EPATest.com are approved to test and certify technicians in the HVAC/R industry, and our site offers a full range of resources to ensure you have the tools needed to succeed.
Your EPA certification is required for any type of refrigerant work, so be sure to check our open book resources to get started with your EPA 608 testing!
EPA 609
Any individual tasked with servicing or repairing an air conditioner within a vehicle (MVAC) in order to receive compensation must achieve their EPA 609 certification to ensure that they are working in a safe and environmentally friendly manner. Mainstream Engineering offers a full range of resources to help you plan and prepare for your EPA 609 test, including proper servicing of equipment, regulatory compliance, refrigerant recovery techniques, and the effect of motor vehicles and refrigerants on the environment.
R-410A
HVAC technicians looking to improve their knowledge base and expand on their services can sign up for their R-410A certification from Mainstream Engineering. You can test for and earn this certification to let employers and clients know that you're committed to safety and eco-friendly practices as an HVAC/R technician. This certification is not required to service and purchase refrigerants, but it does help to certify that you have the proper training and instruction for the job. Keep in mind that you must have your EPA 608 certification from an EPA-approved testing organization such as Mainstream Engineering before you seek additional accreditations!
PM Tech
One way to improve your skills and services is to achieve your PM Tech certification, which covers a complete range of preventive maintenance techniques. HVAC/R technicians will deal with detection methods for moisture and acid, removal techniques, coil and compressor maintenance, charging techniques, advanced diagnosis methods, and leak testing. You can sign up for your PM Certification test and pass to show employers and clients that you are up to speed on all maintenance demands.

Indoor Air Quality
Modern advances have made it clear how important air quality is in creating a clean, healthy building. Polluted interior spaces can put inhabitants at risk for a variety of health concerns. As an HVAC technician, you can study for and receive your Indoor Air Quality certification to help promote cleaner air and higher quality results. You will be able to assist customers in inspecting, cleaning, and adjusting the ducting, condensate pans, humidifiers, blowers, and heat exchangers to optimize air quality and provide lasting results.
Green HVAC/R
Modern HVAC services focus on eco-friendly measures to help customers save money and feel better about doing so. Mainstream Engineering offers our Green HVAC/R certification, which while not required for working with refrigerants, can help to provide better results throughout the process. You can show that you are trained and knowledgeable in energy conservation and eco-friendly practices.
HC/HFO
Handling flammable agents such as hydrocarbon and hydrofluoroolefin refrigerants can be dangerous. Mainstream Engineering's HC/HFO certification covers safe techniques for use with HC and HFO refrigerants, enabling you to offer more to your customers.
Get Certified Today
Mainstream Engineering is your EPA-certified source for EPA certifications, including 608, 609, and more. You can explore certifications to find what you need, or find materials and patches through our online store. You can also shop our QwikProducts™ to stock up on the cleaners, solutions, and hardware needed to get the job done. Need assistance? Contact us online to get started!