EPA Section 608Open Book Certification
Begin Exam - Step 1
Mainstream Engineering Offers EPA 608 Testing
To work in the HVAC industry, technicians who maintain, service, repair, or dispose of refrigerant-containing equipment must be certified under the Environmental Protection Agency's Section 608 of the Clean Air Act. Mainstream Engineering is a certifying agency for Section 608 Type I, II, III, and Universal certifications. This online resource can help you explore certification options, study, practice, and take the test online!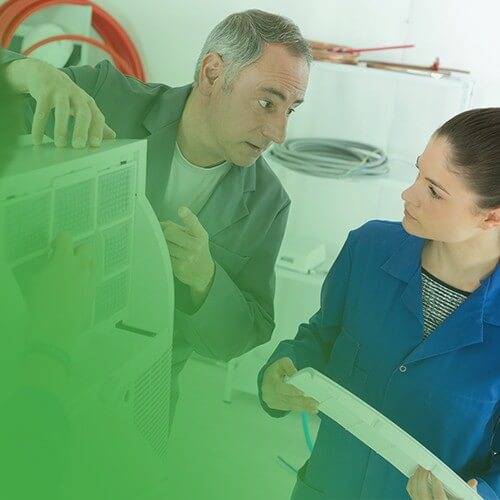 608 Certifications for Servicing Air Conditioning and Refrigeration Systems
Before testing your knowledge of different types of appliances, you will need to pass the Core Section of your EPA 608 exam. The core section of this test discusses the purpose behind industry regulations and each technician's responsibility to generate a safe and environmentally result. Your core exam section will contain a variety of topics, including a focus on ozone depletion, the value and risks of refrigerants, the Three R's (Recover, Recycle, Reclaim), safe practices, recovery techniques, and more.
Type 1 – Servicing Small Appliances
Available online in an open-book format, the Type 1 EPA 608 certification enables you to service smaller appliances. This section includes proper recovery techniques and industry requirements for small appliances, including recovery in equipment made before and after November 15, 1993. Keep in mind you will also need to take the Core Section test, but since it is open-book, the Core Section will need to be taken in a proctored environment for future certifications!
Type 2 – High-Pressure Appliances
This EPA certification will enable you to service or dispose of medium- to very high-pressure appliances, except in applications such as small appliances or air conditioners within motor vehicles. The focus of this education and training is geared more toward leak detection and how to properly test equipment. Type II also focuses on recovery techniques and requirements to minimize loss or cross-contamination.
Type 3 – Low-Pressure Appliances
The proper servicing and disposal of low-pressure appliances require Type III certification, but it is essential to know that this near-identical exam is different from Type II in that low-pressure systems work in a vacuum. Leak tests and proper pressurization are essential components of low-pressure HVAC services.
Universal Certification
Technicians who pass all three certification exams will be awarded a Universal Certification. You will have to be tested on each of the three certification types in addition to the core exam. Expect to answer 100 questions in total.
What is the EPA 608 Test?
This certification exam is designed to educate HVAC technicians on various methods and refrigeration products, providing a safe and eco-friendly outcome with each service. Each section of this test includes 25 questions, equating to 100 questions for complete certification.
Individuals working to earn their 608 certifications must do so under the guidance of an EPA-approved certifying organization such as Mainstream Engineering.
Can You Take EPA 608 Online?
Yes! Since the Type I Certification is open book, you can study and take your test online right now. If the appliances you are working on exceed five pounds of refrigerant, the test will need to be proctored. For additional certifications, refer to our wholesaler list above to find a proctor in your area.
What Format is the Test Proctored?
You can expect multiple-choice questions for each certification exam. This format includes four possible answers. The EPA 608 certification relies on a random assortment of questions for each second pulled from a pool of roughly 350 potential questions. You can rely on Mainstream Engineering's study materials to best prepare for the test.
Do EPA 608 Certifications Expire?
Section 608 certifications do not expire. If you lose your certification card, however, re-testing may be required. Contact us to see how you can retrieve your 608 cards!
What Are the Pass/Fail Limits?
Each section requires a minimum passing grade of 72% per section or 84% in the open-book format. If you are worried about your upcoming exam, you can utilize our free software for quality training materials and interactive tools.
How Hard is the EPA 608 Test?
For those who do not study, passing the EPA 608 exam may prove challenging. Technicians who prepare and study will likely pass the exam without too much worry. Be sure to review your study manual and memorize the proper information. This will help to reinforce your in-field services later on.
Is There a Difference Between a Refrigeration EPA Certification and an HVAC EPA Certification?
The difference in verbiage may cause some confusion, but these two terms are interchangeable in EPA terminology. AC systems rely on refrigerants to complete operations and therefore fall under the umbrella of EPA 608.
Have Questions?
Mainstream Engineering Corporation, at EPATest.com, is here to provide complete testing services and support for technicians seeking their EPA 608 certification and other certification programs. If you have questions or want to know more about our program, complete this online form.